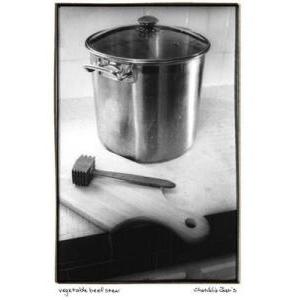 There's just nothing like stew when it's cold outside and you're hungry!
This extra tasty classic will leave you wanting another bowl and is sure to please even picky eaters with it's flavor, fragrance and hearty nature.
The perfect, traditional dish to learn how to make that you can build on and substitute with other meats in the future.
~ Kimberly Edwards
Type: Soup Recipe
Serve With: Fresh, crusty bread and barley, if desired
Prep Time: 15 min
Cook Time: 1.25 hr
Yield: 1 large stock pot full
Ingredients:
2 Beef Shanks – Or 4 Beef Brisket with bone in
2 cups Dried Field Mushrooms – Or any varieties of dried mushrooms; Measure before grinding.
1 large Onion – Diced
2 cups Carrots – Chopped
1 1/2 cups Celery – Chopped
1 Leek – Washed and finely sliced
3 cloves Garlic – Minced
2 small Sweet Potatoes – Peeled & 1″ dice
1 1/2 cups Red Wine – I enjoy Port with this dish, but have also used a strong red from Terra Vineyards in Niagara-on-the-Lake, Ontario in the past.
9 cups Beef Broth – Reduced sodium broth, if possible
2 cups Water
1 1/2 cups Canned Tomatoes
1 bay leaf
3 tbsp fresh Parsley – Chopped
Freshly Cracked Black Pepper – To taste
Sea Salt – To taste
3 tbsp Olive Oil
Instructions:
1. Preheat a large frying pan on medium heat with 1 1/2 tbsp olive oil. Wash meat with cold water and pat dry with paper towel.
2. Grind dried mushrooms in a coffee grinder, 1 cup at a time, into mushroom dust. Put dust into a large bowl or plate and dredge meat in mushroom dust after salting and peppering.
3. Pan fry meat on all sides until browned.
4. In a large stock pot preheated with 1 1/2 tbsp olive oil on medium heat, sautee carrots and celery with a bay leaf, salt and pepper for 5 minutes. Add onion and leek and continue to sautee for an additional 5 minutes. Add minced garlic and continue sauteeing for an additional 5 minutes.
5. Add wine and stir on medium for 2 minutes. Add beef broth, water, canned tomatoes, sweet potato and browned beef to pot and bring to a boil.
6. Reduce to a simmer for 45 minutes.
7. Serve with boiled barley, if desired, and Enjoy with a loaf of fresh, crusty bread.
***
I hope you enjoyed this Beef Recipe on Cooking With Kimberly! Until next time…
Eat Deliciously,
Kimberly Edwards 🙂
P.S. Check out my Lamb Stew to Indulge In written exclusively for CIDA News.

[tags]beef stew, how to make beef stew, stew, how to make stew, beef soup, how to make soup, beef and barley, beef shank, beef brisket, bone in beef[/tags]
Similar Posts: