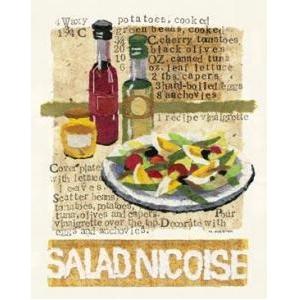 Don't let the name of the Niçoise salad scare you!
Yes, it's French. No, it's not difficult to make. No, it's not really fattening.
Nicoise is just a combination of greens, tuna, green beans, new potatoes, tomatoes, black olives and eggs – traditionally. That's all it means…
Okay – now that's out of the way – let's get cooking and create this unbelievably tasty salad you'll make over and over again!
~ Kimberly Edwards
Type: Main Dish Recipe – Fish
Serve With: Creamy Herb Dressing & crusty, French bread
Prep Time: 10 minutes
Cook Time: 20 minutes
Yield: Ingredients are per person – multiply if necessary
Ingredients: Per person
1 Tuna Steak – Per person
2 cups Salad Greens – Use torn Romaine, or baby salad greens like spinach, frise – whatever you like
4 small Red New Potatoes – Boiled until fork tender
4 small Tomatoes – Can use cherry, grape – whatever you prefer or what's in season
1 dozen Green Beans – Boiled until fork tender (that's how I prefer them) or al dente/blanched for 8 minutes, then plunged into cold water.
1 hard-boiled Egg – Boil in water for 8 minutes then completely plunge into cold water and let sit for a few minutes before peeling shell.
6 Black Olives
Extra Virgin Olive Oil
Freshly Cracked Black Pepper – To taste
Instructions:
Pre-heat oven to 350 degrees. Wash tomatoes, cut each in half and lightly brush with olive oil on a cookie sheet. Salt and pepper to taste. Roast in oven for 15 min.
In the meantime, rinse tuna steaks under cold water and pat dry.
Pre-heat large frying pan to medium high heat.
Brush tuna steaks with olive oil and sprinkle with pepper.
Make sure to test heat in frying pan before putting tuna in by dripping water. If it sizzles, the pan is ready.
Sear tuna steaks on each side for 3 minutes a side, 2 at a time depending on how many you're preparing. Set aside.
Arrange salad greens that have been washed and dried in each plate or large bowl and garnish with roasted tomatoes, boiled new potatoes cut in half, boiled green beans, black olives, and quartered hard boiled egg. Top with tuna steak.
Dress with Healthy Creamy Herb Dressing and Enjoy!
This is a salad you will be excited to plan to make often. Try adding cucumbers or other vegetables for extra nutrients, or even capers, if desired, to switch things up, but keep the basic salad recipe intact for Nicoise. Mmm…
***
I hope you enjoyed this Salad Recipe on Cooking With Kimberly! Until next time…
Eat Deliciously,
Kimberly Edwards 🙂
P.S. Want to serve your Salads beautifully? These are some fabulous bamboo salad bowls:

[tags]nicoise salad, niçoise salad, tuna salad, salad recipe, healthy salad, fish recipe, fish salad, salad, fish, dinner salad recipe[/tags]
Similar Posts: